Are you trying to choose between using a shipping storage container or shed for your alternative housing, storage or survival shelter? Both of these structures are sturdy and durable. Yet, each has its pros and cons. Let's first take a look at the cargo shipping container home.

Shipping Container Prices and Costs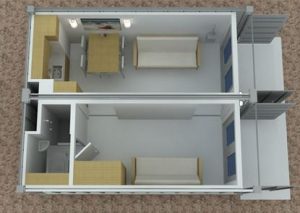 When calculating the costs of your container house, you must take into account the size and floor plan. For example, a single-level, two storage unit home will cost less than a three-unit structure.
The following is an estimated price list:
Standard 20 Foot Container: US$2,100 | AUD$2,700 | GBP£1,350

Standard 40 Foot Container: US$2,850 | AUD$3,650 | GBP£1,850

High Cube 20 Foot Container: US$2,200 | AUD$2,850 | GBP£1,450

High Cube 40 Foot Container: US$2,950 | AUD$3,800 | GBP£1,925
Also, you have to take into consideration the delivery fee which ranges from $400 – $500 per unit.
Recently, an owner built a beautiful home using the two shipping container floor plan.  His total cost was $37,500. This price does not include the property and land.
This is why I love green living!
What an amazing way to save over $200,000…given the fact that an average home in the United States, Australia, Canada and UK cost approximately $250,000.
Now, let's take a look at a shed home.
This true case study involves a family which built a backyard shed using 12×16 storage shed plans.

It is a quality built home with rafter storm frame connectors, T-111 siding, stick framed with 2 x 4's nailed 16″ on center featuring two roman-styled windows, steel service door, and a roll up door.
The final cost for the materials which does not include shingles and the concrete base is approximately $1800.
This is the perfect building for a man cave, woman cave, storage, guest house, tiny house, she shed or tool shed.  😎
So have you decided which structure best fit your needs?
Here is a list of five facts and tips:
1.Become completely self-sufficient by going "off the grid" by using solar panels (cooling and power) and a wood stove (heat).
2. Make sure your shipping container home has good ventilation to prevent moisture buildup.
3. A container home is more secure that a shed. It is the perfect bug out, storm or emergency shelter.
4. A shed can be easily converted into an office, rental unit, guest house, barn, woodcraft shop and many other purposes. Imagine generating an extra income at home by renting out your shed home.

5. It will cost less to repair a shed home compared to a shipping container.
Whatever your choice, you definitely can't go wrong with either of these building structures.