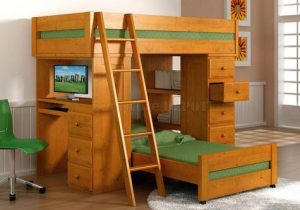 Whether you have a cabin, tiny house, getting ready to move into a college dorm or if you have a small bedroom, a combination bunk bed with desk is a convenient option for you to have.
Cabin space is crucial. And the two important elements we need are sleeping quarters and closet space.
If you are considering a totally separate desk in a small room, you may have had to avoid it just because you need to have enough space in your room for your bed and some dressers.
However, on the other hand, not having a desk can sometimes be a pain to deal with.
Instead of compromising, you can have two comfortable beds and a convenient desk in a room, even if you are a bit tight on space.
The desk is located underneath the top bunk bed, so you will have more space to move around on the floor inside of your room. Some models come with dresser drawers or a few storage containers.
There are plenty of styles available. In fact, the bunk bed over desk comes in both wood and metal materials. The metal style may be slightly more affordable, but the wooden options are often more durable.
If you decide to choose one of the many wood styles, make sure to pick a finish you like the most.
You can find this type of bunk bed in assorted colors, including white, brown, tan and navy blue.
Along with the bed frame itself and the desk where you can sit down to do your work, a ladder may be attached to the left or right side of the bunk bed, making it a whole lot easier for you to get up and down when you are ready to go to sleep or get up in the morning.

Before you buy one of these space-saving alternatives for your cabin or tiny house, make sure you measure the amount of space you already have available in your room.
You may need move some of your belongings around to ensure that it will fit perfectly.
Once you have it in your home, you will instantly notice how much more space you have compared to a traditional flat bed.
Now remember….
You are never too old to sleep on a bunk bed. These units comes in both adult and kid styles.

Imagine finishing your projects, checking your email messages and walking up the ladder to go to sleep.

Who wouldn't want to have everything they need in one room?
This will make the perfect addition to your lifestyle.